BestDentistLarnaca.com Is a modern dental clinic located in Larnaca. We aim to provide you with the best care possible, with the patience, comfort, and honesty you and your family deserve.
 As oral health is extremely important, you shouldn't neglect your regular visits to a good dentist. This is the best way to make sure you maintain the health of your gums and teeth. Dr. Andreou, DMD, is perfectly qualified and eager to help patients of all ages to enjoy a beautiful smile and a healthy mouth. By taking care of your gums, not only are you going to have better dental health, but you'll also improve the condition of your heart and decrease the chance of developing infections. In addition, a beautiful smile will make you more confident in your abilities to interact with others.
Our dental clinic can help you have healthier teeth and better oral hygiene habits. We have dentists who are qualified to help with any type of treatment from traditional general dentistry to highly specialized treatments and cosmetic procedures. All our solutions are effective, painless and fairly affordable. As we are experts in sedation dentistry, we can help you overcome your anxiety and fear over dental procedures.
If you need a great dentist in Larnaca area to treat you or your family members, all you have to do is to get in touch with us or visit the clinic of Dr. Andreou, DMD. Our combined work experience sums over 10 years, so you can rest assured your oral health is going to be in good hands. We help people in this community enjoy a perfect oral health since many years now. You can be the next lucky owner of a beautiful smile, so pick up the phone and call us today to schedule an appointment. Your teeth and gums will be thankful for this.
Our specialists are ready to address all your worries and to answer your questions regarding the treatment process and the results to be expected. Your first consultation is free of charge, so contact us today and let's see how healthy your mouth is.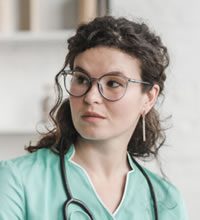 Meet the Founder: Christina Eleftheriou, DDS
Dr. Christina Eleftheriou is the founder and owner of BestDentistLarnaca.com Dental Clinic in Larnaca. These days, she is a full-time Assistant Professor at Midwestern University College of Dental Medicine, a part time attorney, and a Dental Association consultant. She graduated from Northwestern University with a Bachelor of Arts Degree in 1994 and from the Northwestern University Dental School in 1998 with a D.D.S. degree.
She received her Certificate in Prosthodontics in 2000 from her Alma Mater.
In keeping with her commitment to continuing dental education, Dr. Eleftheriou regularly updates her skills through professional courses and programs designed for general dentists and prosthodontists. In addition, Dr. Eleftheriou graduated in 2012 from The John Marshall Law School with her Juris Doctor Degree.
She practices dentistry and law in Chicago, and has presented seminars and appeared on radio and television programs in the Chicago area. She is currently a speaker for the ADA SUCCESS program. She is a longstanding member of Cyprus Dental Association.
If you get nervous about having dental treatment, your're not alone. an estimated 35million adults experience anxiety at the thought of a dental visit. but you can be an active participant in making your dental care pleasant and pain-free.
Share your feelings with us. By bringing your fears out in the open, you will gain control of them. this should help you relax.
Set aside a stress-free time for your dental visit, when you won't be rushed or troubled by concerns. An early morning appointment may be less stressful than hurrying to see the dentist on your lunch hour or after work.
Try to identify specific fears. Uncomfortable childhood experiences or the fear of pain are understandable, yet they are often unrealistic given the modern techniques now used in dentistry.
During the dental visit, practice relaxation techniques to take your mind off th treatment and to reduce tension. Focus on pleasant distractoins such as soft music, a colorful poster, or practice deep slow breathing.
Ask us to explain each step of the dental exam or procedure. the more you know about the reasons for a certain procedure adn what will be done, the more relaxed you will be. If the dentist explains what he is doing as he goes along you won't anticipate any discomfort.
Get a good night's sleep and eat a light breakfast the day of you appointment. To allow easier body movement, wear loose, comfortable clothes.
Schedule short appointments by having different procedures done on different days, if possible. Also, arrange a break from lengthy procedures now and then.. If you are feeling any discomfort, you can signal the dentist to stop with a prearranged signal.
Once the dental visit is over, praise yourself for a job well done, and treat yourself to a special reward